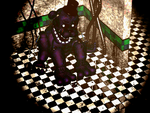 CONJECTURE
This is not an official name, but will be used until an official name is released.
Were you looking for the West Hall from the first game, or perhaps the Main Hall from the second game?
Template:Left Hall infobox The Left Hall is a location in Five Nights at Freddy's 4 and the first visible location for Nightmare Bonnie. Nightmare Foxy, Nightmare Fredbear, and Nightmare can appear in here, too.
In the Halloween Edition, Nightmarionne can appear here in place of Nightmare on later nights, and Jack-O-Bonnie will appear in place of Nightmare Bonnie.
Appearance
The Left Hall is a fairly long room. Unlike the area around the Bedroom, the walls boast a red checkered pattern, similar to that of the Right Hall. The ceiling is the same popcorn ceiling as the rest of the location. Two lights are also visible. The walls are decorated with various pictures.
Near the end of the hall, a grandfather clock can be seen along with a barely visible box. The hall also contains a table on the far left of the room. This table appears to have a lamp and another photo sitting on top of it.
Trivia
The pictures seen on the wall are possibly pictures of Scott Cawthon and his family.
Nightmare's closeup in the Left Hall appears to be identical to Nightmare Fredbear's, aside from him appearing black instead of yellow.
The grandfather clock is likely a reference to the Music Box from Five Nights at Freddy's 2.

The chime that plays on the clock plays the same tune that is heard when the player wins a night in the first three games.
Neither the clock's big hand nor the little hand move at all when time passes, most likely because the clock is part of the stationary scenery graphics.
Gameplay
Brightened
Halloween Edition
Brightened
Community content is available under
CC-BY-SA
unless otherwise noted.